Renewable power shares are outperforming fossil fuels in the stock market, but obstacles are still standing in their way.
A new report produced by Imperial College London and the International Energy Agency (IEA) found that renewables offered investors higher total returns than fossil fuels, and had a lower annualised volatility, making them lower risk across the board.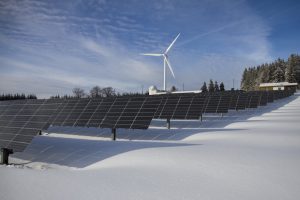 The 'Energy Investing: Exploring Risk and Return in the Capital Markets' report found that there was a superior risk/return profile for renewable power. Imperial and the IEA ran a series of hypothetical investment portfolios in the UK market, as well as the US, Germany and France, and explored the total return and volatility of these over five and ten year periods.
Additionally, it looked at how markets had performed in the first four months of the year given the stresses caused by COVID-19. In both ordinary market conditions and a recent tail risk event, renewable power came out ahead of its fossil fuel counterparts.
For the UK, the renewable portfolio produced a higher average annual return than its fossil fuel equivalent and at half the risk. The renewables portfolio showed a slight dip between 2015 and 2016, but began to appreciate again after, probably because of the introduction of the Contracts for Difference auction, the report said.
Not only did the renewable portfolio outperform fossil fuels during the five year period, 2015-2020, it outperformed both the FTSE 100 and FTSE Small throughout 2019.
Dr Charles Donovan, executive director of the Centre for Climate Finance and Investment at Imperial College Business School, said:
"There's real momentum gathering behind renewable power, based purely on their economic advantage. Our results show that renewable power is outperforming financially, but has still not attracted sizable support from listed equity investors."
Read more: Current News