(REPOST: eurekar)
THE next generation of the Nissan Leaf electric car will be priced from £21,990 when it arrives in February.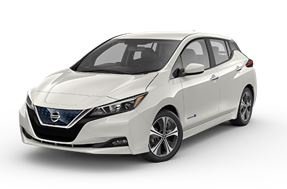 Including the £4,500 Government grant for low emission vehicles the new model will cost little more than the current car, with mid-grade Acenta versions now £1,500 cheaper than before starting from £24,290.
It signals a shift from Nissan to cement its position in the growing market for zero emission cars where the Leaf faces competition from the likes of the Renault Zoe and the battery powered version of the VW Golf.
Built in Britain at Nissan's Sunderland factory, the Leaf has pioneered electric motoring in the UK – a sector of the car market which last year grew by more than 30 per cent with some 120,000 so-called alternative fuel cars sold and now accounting for almost five per cent of new car registrations.
The new Leaf features a higher capacity battery which has increased range up to 235 miles on a single charge and gives almost 40 per cent more power at 150ps.
It also includes Nissan's ProPilot semi-autonomous driving system and marks the debut of what the Japanese car maker calls the ePedal which allows drivers to start, accelerate, decelerate and stop – just by increasing or decreasing the pressure applied to the accelerator.
Four trim levels will be available with the line up topping out at £33,655 for high specification Tekna models.
A special edition 2.Zero trim level – limited to a production run of 1,500 vehicles – will be available at the launch of the new Leaf priced from £26,490 or from £339 a month on a three year/10,000 mile PCP with a £5,138 deposit.