A new asset class is coming to the energy industry.
One of the most exciting innovations in energy over the past decade has been the development of energy storage technology. Batteries have become viable for almost every size project, from homes to the largest utilities.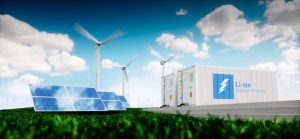 In 2018, 311 megawatts (MW) and 777 megawatt-hours (MW-hr) of energy storage were installed in the U.S., according to Wood Mackenzie and the Energy Storage Association's Energy Storage Monitor. The cumulative installations could power 75,000 homes for an entire year, and they're just the start of the industry's growth.
Energy storage plans are exploding
777 MW-hr of energy storage is a lot, but it'll soon be dwarfed by a few projects. Earlier this month, the Gemini Solar Project in Nevada revealed plans to build a 531 MW/2,125 MW energy storage facility to accompany a 690 MW solar power plant. The project could then smooth out the electricity offered to the grid to include peak evening hours, when solar intensity falls but electricity demand jumps.
In Florida, NextEra Energy's (NYSE:NEE) utility Florida Power & Light is planning a 409 MW/900 MW-hr facility that will be co-located with a solar power plant. In Hawaii, six projects were recently approved by regulators totaling 247 MW/998 MW-hr of energy storage. They will be paired with 247 MW of solar power plants, all of which will deliver electricity to the grid at $0.10 per kWh, or less, which is lower than the cost of fossil fuels on the island. Solar and energy storage have disrupted Hawaiian utility company Hawaiian Electric Industries (NYSE:HE) but Hawaiian Electric is (slowly) learning to use solar and energy storage assets to its advantage rather than fight renewable energy under its jurisdiction.
It's no coincidence that energy storage is booming in scale right now. There's a need in the market to curb the volatility of wind and solar energy production, and battery costs have now come down far enough that energy storage with batteries is economical.
Read more: Motley Fool