The next several months could bring hurricanes, floods and fire, on top of the pandemic currently raging through the country. How do you shelter in place during an evacuation?
Two and a half years ago Hurricane Maria ripped open homes across the southern Puerto Rican city of Ponce, destroying the rickety electrical grid and sending thousands of people into shelters or onto the streets. People were still rebuilding when, in January, a devastating earthquake jolted the island's southern coast. Afraid of collapsing walls and showering concrete, people moved back outdoors, where they still spend cool, wet nights under blue tarps strung to poles and tied to cars packed with coolers and lawn chairs.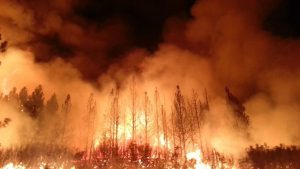 Now thousands brace for a wave of illness as the COVID-19 pandemic spreads insidiously across the island, threatening people without homes, without water, some struggling even to maintain basic hygiene. It's the latest blow in a diabolical cascade of crises, striking Puerto Ricans at their most vulnerable. When the sickness comes, doctors and nurses will be scarce; the hurricane forced almost half of them to leave the island in search of jobs.
"Everyone is in hell," said Abel Vale, a retired environmental consultant who lives north of Ponce, "or left forgotten."
This is how cascading catastrophes can compound in effect, kicked off or made worse by climate change, which promises to amplify the harm and make even unrelated crises more painful.
Read more: Resilience