The biggest reason most people get solar panels is to save money on their electricity costs. In addition, however, there are some good incentives and grants available to help with the costs of installing solar and we will cover them here.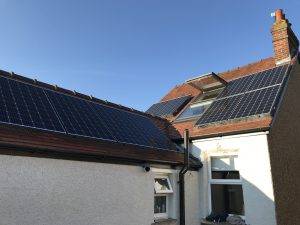 Solar Panel Incentives
The main incentives available in the UK to help with the cost of solar panels are the reduced VAT rate, and the Smart Export Guarantee.
Reduced VAT Rate
In 2022 the government reduced the rate of VAT on solar panel installations from 20% to 0%. This zero VAT represents a massive saving of £1000-£2000 on a typical solar panel install compared to the year before.
The main features of this incentive are:
Zero VAT is chargeable on a complete professional solar panel installation – it does not apply if you just buy the solar panels and set them up yourself. The best approach is to use an MCS certified installer.
The reduced rate applies until March 2027.
If installed at the same time, a solar home battery can also be eligible for zero VAT. If installed afterwards, 20% VAT applies.
If installed at the same time, other solar capable equipment such as a Zappi electric vehicle charge point or an immersion heater diverter can also be eligible for zero VAT. If installed afterwards, 20% VAT applies.
If the install includes large batteries and an EV charge point, for example, then the total VAT saving could be as much as £4000.
Related topics:
Smart Export Guarantee (SEG)
In 2020 the Smart Export Guarantee (SEG) scheme started operating. This is an obligation set up by the government for licensed electricity suppliers to make payments for solar energy that is exported to the grid. For more details see our blog The Feed In Tariff is Dead, Long Live the Smart Export Guarantee!
In a nutshell, so long as you have a smart meter, you can sign up with an electricity supplier and they will pay you for any solar electricity you don't use and so goes to the grid. The only requirement on the rate offered is that it has to be above zero and so different companies have wildly different rates and you will need to shop around to get a good rate. The supplier doesn't have to be your own electricity supplier; you can have one for what you import and a different one for what you export.
A good resource on available export tariff rates is Solar Energy UK.
Note that most SEG providers will require you to show a certificate confirming your installation was MCS certified.
Solar Panel Grants
Since the end of the government's Feed In Tariff scheme in 2019, grants for the installation of solar panels have been thin on the ground.
ECO4
The main source of funding currently is the 4th iteration of the Energy Company Obligation, so it's known as ECO4. This scheme is funded by the government to the tune of £4 billion over the 4 years from April 2022 to March 2026. However, it is administered by local councils and under ECO4 the councils have a lot of say on who gets the grants, so eligibility will depend to some extent on where you live.
However, the scheme is implemented by energy suppliers so you can see what is available to you through your energy supplier's website. From reviewing a few schemes the main features appear to typically be:
Although solar panels are eligible, most of the funding is directed towards insulation and other energy saving features.
You will need to be in receipt of benefits such as Job Seekers Allowance, Income Support, Universal Credit or Housing Benefit.
The existing house must be very energy wasteful, with an EPC rating of E or below.
Home Upgrade Grant
There is also a similar scheme called the Home Upgrade Grant, which has these main features:
The property is not connected to the gas grid.
It has an EPC rating of D or below.
Gross household income is low (typically no more than £31,000 per year).
Only certain councils offer this scheme so it's worth checking if yours does, if you pass all the requirements.
Generally, because of all the restrictions, these schemes are not a useful way to get funding for solar panels for most homeowners. With that in mind do be wary of solar panel websites claiming to offer 'government grants', 'solar panel funding', 'government funded panels' or similar terms as there really aren't any widely available government grants any more.
It is worth noting, however, that the lack of government funding is not the issue it would have been in the past. Between the rise in the cost of electricity, the overall reduction in the cost of solar panels, and the zero VAT on solar panel installations, it is now perfectly possible for solar panels to pay for themselves without additional help. While a typical install might take 10-15 years to pay for itself, if you are a heavy user with a large suitable roof an install may pay for itself in 7-10 years. And both cases will, of course, pay off even faster if electricity prices continue to rise.
Nothing beats the feeling of energy independence when you have a power station on your roof!