FRANKFURT (Reuters) – The use of batteries for energy storage is expected to grow faster than that of other flexible assets in the period to 2030 and beyond, as renewable energy generation expands, consultancy Wood Mackenzie said in research published on Wednesday.
Battery storage will increase to 26 gigawatts (GW) by 2030 from 3 GW in 2020 across the five major European power markets, Britain, Germany, France, Italy and Spain, WoodMac forecast in the findings, which were aimed at investors in energy systems.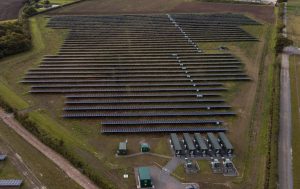 The study of European power system flexibility assessed the longevity of traditional technologies to offset supply and demand imbalances on networks – which must maintain a constant voltage level to avoid crashes – versus batteries, which are still a small market segment.
Demand for flexibility will increase with the closure of older thermal and nuclear power stations and the transition to wind and solar plants and electric vehicles, which will make massive and sudden demands on grids.
The more than eight-fold growth in battery storage would outpace that of existing flexible assets – namely pumped storage plants, cross-border interconnectors and gas "peakers" – where capacity is seen increasing to 205 GW by 2030 from a current 122 GW, the research showed.
Read more: Reuters