Last year saw renewables records broken across the board as renewables produced nearly 37% of the UK's power, according to new data released by the Department for Business, Energy and Industrial Strategy (BEIS).
In 2019, renewables generated a record breaking 36.9% of the UK's electricity, it announced today (26 March). Of this, wind power contributed 20%, a further record, with 9.9% from onshore wind and 9.9% from offshore wind.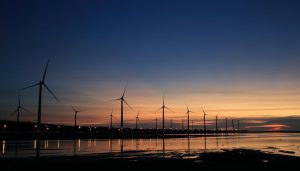 This amounted to 32TWh of generation from wind in 2019, the most ever recorded. Renewable electricity capacity grew to 47.4GW by the end of the year, a 6.9% increase (3.0GW) on a year earlier.
Across the board, low carbon generation increased in 2019, ensuring that renewables and nuclear together accounted for a record 54.2%. Nuclear provided 17.4%, while natural gas provided 40.9% and coal just 2.1%.
This growth in renewables have allowed greenhouse gas emissions to fall by 3.6% from 2018, and almost 28% since 2010.
Read more: Current News