Decision comes four years after ministers scrapped support for new projects
The UK has abandoned its opposition to subsidising new onshore windfarms, four years after ministers scrapped support for new projects.
The government will remove a block against onshore wind projects by allowing schemes to compete for subsidies alongside solar power developments and floating offshore wind projects, in a new auction scheme announced on Monday.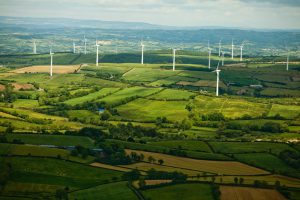 The U-turn follows the government's pledge to cut emissions to virtually zero by 2050, a feat that its official climate advisers believe will require the UK's onshore wind-power capacity to triple in the next 15 years.
The auction will take place in 2021, allowing new renewables projects to be up and running from the mid-2020s if they manage to clinch a contract that guarantees a price for the clean electricity they generate.
Alok Sharma, the secretary of state for business and energy, is said that ending the UK's contribution to the climate crisis "means making the UK a world leader in renewable energy".
The government will do this "in a way that works for everyone, listening to local communities and giving them an effective voice in decisions that affect them", Sharma said.
Windfarm developers will need to comply with tough new proposals on community consent to qualify for the auction process. Those hoping to build a windfarm in England will also need the consent of the local community through existing planning codes.
Alethea Warrington, a campaigner at the climate change charity Possible, said: "We can finally celebrate the UK's cheapest new energy source – onshore wind – being brought in from the cold.
"As our cheapest source of clean energy, onshore wind is hugely popular with people in the UK, who understand that we need to use all the tools in the box to tackle the climate crisis."
Read more: The Guardian