Exeter's solar farm and battery storage facility is nearing completion and will soon be powering the city's electric fleet of vehicles and recycling centre with green energy.
The project is another big step towards Exeter ambition to become a Net Zero Carbon City by 2030.
The Water Lane Solar Park at Marsh Barton features 3,700 solar panels which will create more than 1MW of clean, renewable energy.
Funded by the European Regional Development Fund, the facility, built on an inactive landfill site, includes a substantial battery storage capacity to provide flexibility between peak generation and peak usage.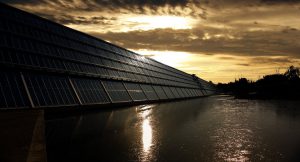 It will feed the power generated directly into the Council's nearby Materials Reclamation Facility, and will charge the Council's entire fleet of electric vehicles, including its three newly-operational electric refuse vehicles.
It is expected that energy from the solar farm will be used to charge the Council's electric fleet of vehicles for the first time by the end of next month.
Read more: news.exeter
It's Time to Go Green!
If you would like to know more about Solar Panels and the PowerBanx range of home battery systems, and get a free instant quote, please complete our online form: