Renewable generation hit a new record in 2019, generating 37.1% of the UK's electricity throughout the year.
This was up from 33.1% in 2018, and reflected a 6.5% increase in renewable generation capacity, which rose to 47.2GW according to new figures released by the Department for Business, Energy and Industrial Strategy (BEIS) today.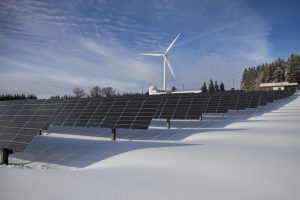 Over the course of 2019, solar generation increased by 1.4% helping to bolster renewable generation. Overall renewables jumped by 10% to hit a record 121TWh on a year earlier. Since 2004, today's statistics showed, there has been a tenfold increase in renewable generation in the UK.
RenewableUK's deputy chief executive Melanie Onn said: "At a time when so many things seem uncertain, the consistent rise of renewables, keeping the UK powered up, bringing billions in investment in new energy infrastructure and creating highly skilled jobs all over the country, is a terrific success story we can all be proud of.
"Today's figures confirm just how far we've come in the revolution in power generation; in 2010 less than 7% of our electricity came from renewables – now it's 37%."
Read more: Solar Power Portal