(REPOST: Daily Record)
THE UK's unique eRally car, the all-electric Renault Zoe, has successfully completed its first competitve outing.
Marshals gave the Zoe, based at Knockhill , a standing ovation at the end of the Adgespeed Rally run by the Wigan & District Motor Club.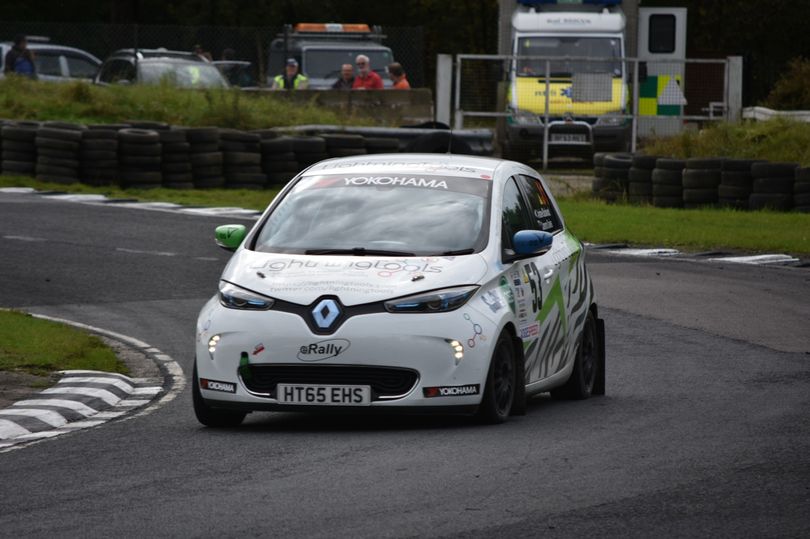 The fully electric junior rally car competed in all stages against traditionally powered cars after the Motor Sports Association was satisfied that its rally specification complied with safety regulations.
The only difference between the eRally car, which has 65kW (88bhp), and the road-ready Renault Zoe are the GAZ adjustable dampers to improve the car's handling. eRally co-founder Tristan Dodd said: "This is the first time a purely electric car has competed in a UK stage rally."
The Zoe competed in a class of its own at the rally over 12 stages, driven by British Rally Championship contender Cameron Davies.
Ellya Gold, the driving force behind the project to create an all-electric rally car, said: "We wanted someone who could do the car justice out there against more powerful petrol rally cars and we had full confidence that Cameron could show what the car can do without risking a good result."
Scottish junior rally driver Andrew Blackwood was beside him as co-driver. The eRally Zoe is aimed at bringing new, young drivers into the sport, given its unique drivetrain and environmental credentials.
This new form of power has its own set of safety requirements, which meant Scots team project manager and safety adviser Jean Hay had to brief crews and make them fully aware of any risks and how to handle them.
After an excellent start, a slight error on stage 10 cost the car a decent finish but its performance against traditional cars was impressive. Cameron said: "It's so quiet and smooth driving the car, it's a bizarre feeling but we did well and showed up a lot of the petrol cars."