For a brief period a few days ago, Bordesholm in Germany became a showcase for how entire communities could switch over to renewable energy, with the backing of energy storage capacity.
Solar inverter maker SMA's devices, including its Sunny Central Storage battery inverter and SMA Hybrid Controller XL, were used in a trial whereby the town's energy supply was disconnected from the grid, proving for a one-hour window that local energy networks could be powered stably and reliably using renewable energy.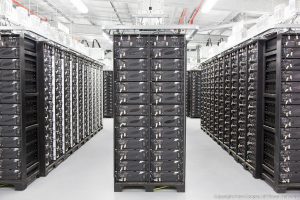 The name of the town may ring a few bells of recognition for regular readers of Energy-Storage.news. In January 2018, this site documented RES Group's win of a competitive tender to build a 10MW energy storage system in the town, in Schleswig-Holstein, northern Germany, from local energy supplier Versorgungsbetriebe Bordesholm (VBB). Supported by the local state and funded through the European Union (EU), VBB and RES officially broke ground on the project in June 2018.
According to a RES Group case study, it has 10MW peak power output and 15MWh storage capacity, utilising lithium nickel manganese cobalt (Li-NMC) batteries. RES carried out EPC duties and remains in charge of maintenance, while the utility owns and operates it. Bordesholm is already 75% renewable, but the small town's 8,000 inhabitants hope to see it reach 100% during 2020.
Read more: Energy Storage News