Experts have warned against buying coastal properties as research shows there will be unprecedented ice melt in the next 30 years.
No part of the planet will be spared a climate crisis as oceans warm and glaciers and ice sheets melt, according to a report by United Nations scientists.
The Intergovernmental Panel on Climate Change (IPCC) warns one billion people will be affected as soon as 2050 because of rising sea levels, water shortages and food insecurity.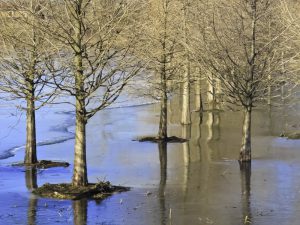 The report, compiled by more than 100 leading climate scientists, calls for urgent, ambitious and coordinated action.
The findings are corroborated by scientists in the Arctic, who showed Sky News evidence of "unprecedented" ice melt. One cautioned against buying coastal property.
Debra Roberts, one of the IPCC authors, urged world leaders to redouble efforts to reduce greenhouse gas emissions and keep the global temperature rise to below 2C, as agreed in Paris in 2015.
"The more decisively and the earlier we act, the more able we will be to address unavoidable changes, manage risks, improve our lives and achieve sustainability for ecosystems and people around the world – today and in the future," she said.
The report, The Ocean and Cryosphere in a Changing Climate, says the impact of warming air temperatures in polar regions is accelerating.
Arctic snow cover has shrunk by one million square miles since 1967. The extent of the sea ice at the end of the summer melt season was this year at its second lowest on record, with conditions "unprecedented for at least 1,000 years", the report says.
Read more: Sky News