The average costs associated with building and operating large-scale lithium-ion battery storage arrays has fallen by 35% since last June, paving the way for more government and business support for the technology.
That is a key finding of new research by Bloomberg NEF (BNEF), which claims that both battery storage and offshore wind have made "spectacular gains in cost-competitiveness" in recent months.
Published on Tuesday (26 March), the analysis reveals that the global average benchmark levelised cost of electricity (LCOE) for large-scale lithium-ion battery projects has fallen by more than one-third (35%) since mid-2018 to hit $187/MWh. This finding is based on the LCOE of more than 7,000 energy generation and storage projects across 46 nations.
BNEF states in the report that battery costs have been dropping for several years, with average lithium-ion prices having fallen by 76% since 2012, based on recent project costs and historical battery pack prices. This trend, however, is now happening at a far swifter pace, it claims, as Governments seek to overcome the variable output of renewable arrays as they progress towards key climate goals.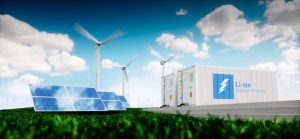 The report additionally states that the LCOE of offshore wind, onshore wind and solar photovoltaic (PV) projects have undergone a similar transformation in recent months, with year-on-year reductions of 24%, 10% and 18% respectively having been recorded.
BNEF's head of energy economics Elena Giannakopoulou argued that these trends have set the scene for "technologies that were immature and expensive only a few years ago" to receive greater backing from governments, investors and businesses, enabling them to play a larger role in the low-carbon transition.
"Looking back over this decade, there have been staggering improvements in the cost-competitiveness of these low-carbon options, thanks to technology innovation, economies of scale, stiff price competition and manufacturing experience," Giannakopoulou said.
"Solar PV and onshore wind have won the race to be the cheapest sources of new 'bulk generation' in most countries, but the encroachment of clean technologies is now going well beyond that, threatening the balancing role that gas-fired plant operators have been hoping to play," BNEF's energy economics analyst Tifenn Brandily added.
Read more: Edie