The UK's general public is overwhelmingly supportive in building new wind and solar farms in order to tackle the ongoing cost of energy crisis, according to Survation.
Identified within polling released by Survation and commissioned by RenewableUK, the data showcased that almost every constituency in the UK is in favour of developing renewable generation sites in a bid to reduce the cost of energy.
In fact, 77% of people in the UK believe the government should use new wind and solar farms to reduce electricity bills, with 76% of people also in support of building renewable energy projects in their local area, according to Survation's data.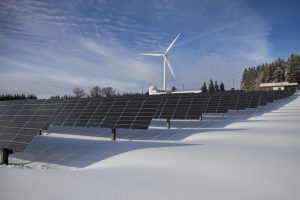 This contradicts the new prime Minister, Liz Truss' previous statement about solar farms being "paraphernalia", as in fact the majority of the general public thoroughly support the development of these farms to tackle the energy crisis.
Causing a further headache for Truss is the fact that 84% of those who backed the Tories at the last election now urge the government to use new wind and solar farms to cut electricity bills. 81% of 2019 Tory voters also support a renewable energy project being developed in their local area.
Read more: Current+
It's Time to Go Green!
If you would like to know more about Solar Panels and the PowerBanx range of home battery systems, and get a free instant quote, please complete our online form: