The UK solar sector emerged relatively unscathed from the pandemic in 2020 and now believes that it can benefit from the new work from home culture, which has seen domestic energy costs soar. We talk to Solar Energy UK to find out more.
For UK solar, 2020 was a significant year. Not just because of the unprecedented global pandemic, but because it was the first full calendar year of subsidy-free solar.
Despite both these challenges, the sector has fared well. According to research conducted by Solar Media Ltd and Solar Energy UK, an industry trade body, it saw a 27% year-on-year increase in new capacity compared with 2019, with 545MW of new solar PV capacity deployed.
60% of this came from ground-mounted PV systems, while 40% was installed on rooftops, mostly located on commercial and industrial buildings. By May, solar's contribution to UK electricity supply had peaked at over 30%.
As the sector enters its second year subsidy free, and yet another of the pandemic, it is hoping that it can benefit from the new work from home trend that has seen a dramatic increase in interest in home improvements, most notably: rising domestic energy bills. To target this burgeoning market, Solar Energy UK is conducting relevant research to encourage more take-up of roof-top solar as a way to counteract increasing energy costs.
Impact of the pandemic
Despite some growth slowdown compared with expectations, particularly in the residential sector, UK solar has been "resilient to the pandemic", says Solar Energy UK chief executive Chris Hewett.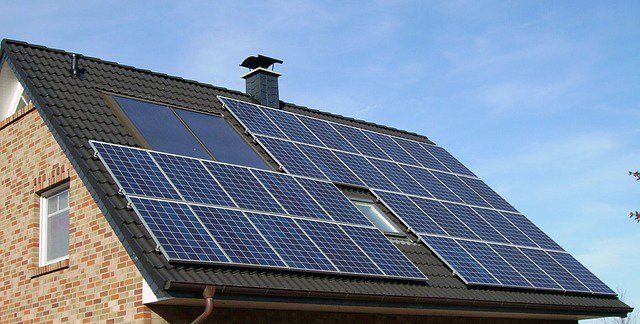 "The industry had returned to pre-lockdown levels by September, largely due to the underlying market conditions, the continuing cost reduction of the technology, and the utility-scale sector reaching grid parity," he explains.
According to the trade body, of the 545MW deployed last year, 300MW were all either merchant risk projects or had corporate or public sector power purchase agreements.
"There was no government support at all, which shows the economics for solar has reached a tipping point," Hewett adds.
Furthermore, in the residential sector, he believes a combination of higher awareness about climate change and a 'build back better' mentally – the motto underlying the incumbent government's green industrial revolution agenda – is having a positive effect.
According to data provided by MCS, a low-carbon standards organisation, there were between 3,000-4,000 PV installations each month in the second half of 2020.
"A lot more people are sitting in their houses and thinking: 'actually, I'm consuming more energy than I did before', this combined with an increased interest in home improvements during the pandemic, has seen more people consider solar as an option," explains Hewett.
An analysis by the International Energy Agency found that a day working from home could increase household energy consumption by between 7% and 23% compared with a day working at the office. The range was dependent on regional differences in the average size of homes, heating or cooling needs, and the efficiency of appliances.
It also found that if a person was not previously commuting by car but by public transport, working from home could increase CO2 emissions because of this extra residential energy consumption.
New drivers
Another driver for the residential roof-top solar sector is the UK Government's ambition, published in January, to make a 31% reduction in new home carbon emissions requirements from June 2022. According to Solar UK, the decision could drive a five-fold increase in new homes built with solar technologies.
To encourage uptake, the industry body is hoping to work more closely with the finance sector to encourage consumer loans or green mortgages, so consumers can take advantage of low interest rates.
To support this bid, it is also doing research into the impact on property value of solar storage and other onsite energy generation technologies.
"The idea is to evidence that the value of solar technology can be included into the asset itself," explains Hewett.
"In the early days, a selling point of the technology was simply to pay itself back and then provide low cost energy, but I think there's an argument that the benefit of that improvement can be passed on to the value of the property itself. It's not clear whether the valuation industry totally understands this, so it's something we will try and highlight."
Read more: Power Technology