VOLKSWAGEN has launched its UK scrappage scheme 2017 slashing the price of some of their bestselling vehicles including the e-Golf electric car which receives a £10,000 price cut.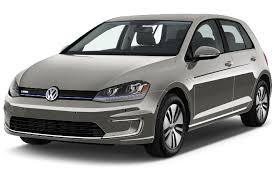 Any pre-2010 diesel vehicle can be traded-in until December 31st to receive the discount.
Drivers must have owned the car for at least six months however to qualify for the deal.
Alison Jones, of VW UK, said: "All trade-in vehicles will be scrapped."
VW's best deal, on the e-Golf, combines a £5,500 discount from VW and the Government's £4,500 electric vehicle grant.
Earlier this year the Government outlined a potential diesel scrappage scheme offering motorists between £1,000 and £2,000 for their old car to put towards a lower emissions vehicle, but shelved the idea until the Autumn Budget.
In addition, the passenger car scrappage scheme allows owners with pre-Euro 5 emissions commercial vehicles can qualify for the Volkswagen Commercial Vehicles scrappage scheme.
They can trade-in their vehicles and benefit from incentives – ranging from £1,000 to £2,000 – against the majority of new Volkswagen Commercial Vehicles vans and passenger carriers.
Commenting on this morning's story of VW launching a new scrappage scheme, Ana Nicholls, Automotive Analyst at the Economist Intelligence Unit, said:
"Volkswagen's scrappage scheme is partly a response to dieselgate, and the resulting pressure on carmakers to get polluting cars off the road. But it is also about getting new customers into showrooms at a time when car sales are subdued (down by 2.2% year on year in the first half of 2017)".
Read more: Express