Demand is growing as more of us work from home. But does the £5,000 outlay for installation pay off?
With energy bills on their way up again from April, homeowners are looking skywards to try and ease the pressure on their budgets – by installing solar panels.
The latest change to the regulator's cap on default tariffs means, from spring, that the average annual dual-fuel bill will go up to £1,971, an increase of 54% on current levels.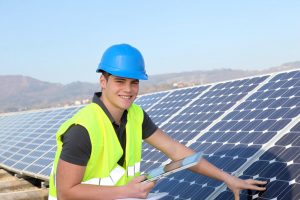 And with homeowners increasingly working from home, and therefore using more energy during the day, many are looking at installing panels to cut costs, and even earn from the energy they generate.
Thomas Newby, chief executive of Leeds-based renewable energy company egg, says they received the same number of inquiries in the first nine days of this month as they did in the whole of November.
"Many consumers are still on fixed deals but which will likely come to an end shortly, so I expect we may see a further increase in demand in the coming year," he says.
What it costs
Solar panels convert energy from the sun into electricity. Stronger sunlight creates more electricity, which can then either be used in your home or exported to the national grid.
But installing them comes at a cost. The average bill reaches almost £5,000 and rising labour bills and shortages of photovoltaic panels mean prices are going up.
Read more: TheGuardian
It's Time to Go Green!
If you would like to know more about Solar Panels and the PowerBanx range of home battery systems, and get a free instant quote, please complete our online form: