Renewables have continued their record-breaking spell as generation remained high in Q2 2020.
The technologies scooped up a 44.6% share of electricity generation in the quarter, a record for Q2 and up 9 percentage points on the share in Q2 2019, according to new statistics from the Department for Business, Energy and Industrial Strategy (BEIS).
This is also the second highest share on record, with Q1 2020 having the highest share on record due to high wind speeds boosting load factors.
Low carbon generation also generated a large percentage of total generation, with 62.1% coming from low carbon sources, up 9.3 percentage points than Q2 2019. However, this is largely due to the increase in share for renewables, BEIS said, as the share of generation from nuclear has remained similar.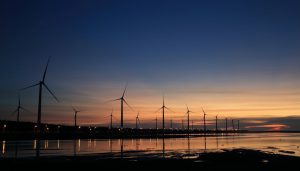 Overall renewable electricity generation came in at 30.1TWh in Q2 2020, a jump of 12% on the 27TWh in the same quarter last year. However, this failed to beat Q1 2020, which saw the highest renewable electricity generation on record at 42.1TWh, 29% higher than Q2.
Generation from solar also hit a new quarterly high, exceeding 5TWh for the first time, with capacity increasing by 1.4%. Average daily sun hours also grew by 1.9 to 7.9 hours compared to Q2 2019, a record high for Q2.
Offshore wind, meanwhile, saw a large increase in generation compared to Q2 2019, up by 31% to 7.8TWh, however this was a 45% drop compared to the high levels seen in Q1 2020.
Onshore wind, conversely, remained within 1% of Q2 2019, coming in at 6.1TWh.
Renewable electricity capacity also saw an increase, reaching 48.5GW at the end of Q2 2020, a 5.4% increase on the previous year and a 1.1% increase on the previous quarter. The majority of the increase compared to last year – 77% – coming from offshore wind.
Demand, however, fell by 12% over the period due to the COVID-19 lockdown, a trend well documented. As a result of this, total electricity generation was 67.5TWh in Q2 2020, the lowest value on the published data series, BEIS said.
RenewableUK's deputy chief executive, Melanie Onn, said that the figures show that even with lockdown "we're continuing to make progress on decarbonisation and set new records".
Read more: Current