Climate experts 'bewildered' by government 'burying their heads in the sand', and say bushfires on Australia's east coast should be a 'wake-up call'
Leading scientists have expressed concern about the lack of focus on the climate crisis as bushfires rage across New South Wales and Queensland, saying it should be a "wake-up call" for the government.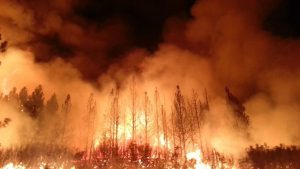 Climate experts who spoke to Guardian Australia said they were "bewildered" the emergency had grabbed little attention during the final parliamentary sitting week for the year, which was instead taken up by the repeal of medevac laws, a restructure of the public service, and energy minister Angus Taylor's run-in with the American author Naomi Wolf.
Escalating conditions on Thursday and Friday led to dozens of out-of-control bushfires, including in the NSW's Hawkesbury region, where a fire at Gospers Mountain merged with two other blazes burning in the lower Hunter on Friday.
Sydney has been blanketed with a thick smoke haze that health officials said had led to a 25% increase in people presenting in emergency departments for asthma and breathing problems.
Read more: The Guardian