(REPOST: FleetNews)
Review
The all-new Nissan Leaf benefits from a complete redesign, featuring longer range and new technology – bringing zero-emission motoring into the mainstream.
Nissan is planning for the "acceleration of electrification" with the launch of the new Leaf.
Previous versions have already sold more than 300,000 units and covered 2.2 billion miles worldwide, which is clear evidence, Nissan says, that zero-emission motoring is becoming mainstream, particularly as the new model has a range of more than 230 miles and an expanding recharging network.
A special launch edition which be on sale from the beginning of 2018, priced £26,490.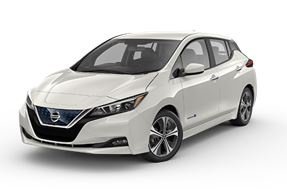 Driving range
Nissan has packed more power into the new Leaf, with a 40kW battery, compared to 30kW final version of the previous model.
This boosts its range to 235 miles on a single charge, compared to 155 miles for the outgoing model.
There is 150PS on tap, but more importantly 320Nm of torque from standstill, which provides potential for more rapid low-speed acceleration.
Nissan is also planning to announce a high-power version of the Leaf in spring 2019, which will offer even longer range up to 310 miles, while a sporting Nismo concept was revealed at the Tokyo Motor Show.
Design
The new Nissan Leaf is a radical departure from the old model. Historically, it stood out as a unique design, but now it is firmly embedded in the brand family, with a familiar front end seen on models including the Qashqai.
The fresh new look works well. From the front-end, the deep U is a significant design feature, underlining the Nissan badge.
At the rear, the arrow-shaped lights and black upper body work are complemented by a coloured highlight above the rear diffuser.
Interior
Inside, the car seeks to continue the theme of the Leaf being part of mainstream motoring, with little to differentiate it as an electric car.
A large speedometer on the dashboard is supplemented by a digital screen, which shows a range of information about the car's performance, including battery charge and range.
A solid multi-function steering wheel and seven-inch touchscreen on the centre console keep all controls in easy reach of the driver, while the interior exudes an ambience of quality and solidity, including doors that close with a satisfying thunk.
The rear hatch opens to reveal a large, deep boot with a high sill, with 435 litres of space with the 60/40 split folding rear seats in place.