Prime Minister Rishi Sunak reportedly intends to revoke the ban on new onshore wind farms, according to an article published by The Telegraph yesterday (3 September).
Under current planning rules, the development of a new onshore wind farm can be halted by the objection of a single resident. This de facto ban on onshore wind was introduced in 2015 and has been criticised throughout the industry for hindering to UK's net zero target.
In November 2022, Simon Clarke MP, the former Secretary of State for Levelling Up, Housing and Communities, put forward an amendment to the Levelling Up Bill lifting the de facto ban. This received backing from the clean energy industry, government minsters as well as former COP26 president Sir Alok Sharma.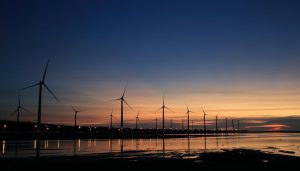 According to The Telegraph, ministers are now set to introduce changes to the planning system for onshore wind farms, allowing councils to proceed with planning proposals where there is broad public support.
The changes have attracted much support, receiving a number of signatories from Conservative MPs (including former Prime Minister Liz Truss) who are said to be "confident" the amendment will pass.
Government sources quoted by The Telegraph stated that the amendment will grant councils: "more flexibly address the planning impacts of onshore wind projects as identified by local communities".
Read more: Current+
It's Time to Go Green!
If you would like to know more about Solar Panels and the PowerBanx range of home battery systems, and get a free instant quote, please complete our online form: