The CBI is calling on the government to accelerate the electric vehicle (EV) and heat pump rollouts and offer greater policy guidance for net zero.
Citing delays to the energy white paper and the National Infrastructure Strategy, the CBI stated how "we still lack clear policy frameworks".
With its members viewing the recovery from the COVID-19 pandemic as a "real opportunity to build back better" and pivot towards a net zero-aligned economy, it has therefore released its recommendations to the government.
These focus on deploying low carbon heating, accelerating investment into low carbon infrastructure and supporting the electric vehicle (EV) charging rollout.
As part of this, the government should create a national charging infrastructure strategy for EVs that delivers a national network across urban, rural and remote parts of the country, with priority given to a national network of rapid chargers and improvements to on-street charging infrastructure in towns and cities.
Funding should also be given to facilitate a UK gigafactory to manufacture the batteries needed for EVs and a net zero mobility credit scheme should be introduced to incentivise switching.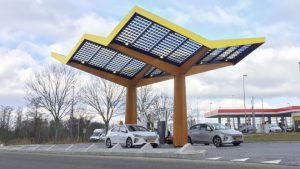 A gigafactory is currently in the works in Wales, with Britishvolt leading the development, having signed Memorandums of Understanding with both the Welsh government and AMTE Power to support its development.
EVs aren't the only technology the CBI is pushing to secure further government support for, however, with measures to deliver low carbon heat also detailed.
According to the CBI, the aforementioned National Infrastructure Strategy should be used to make low carbon heat a national infrastructure priority, and the Heat and Buildings Strategy should be published before the end of 2020 to help support low carbon heat deployment.
Alongside this, the government should mandate that after 2025 all new boiler installations are part of a hybrid system or 'hydrogen-ready', and by 2035 no new natural gas boilers are be installed, as well as extending the Green Homes Grant to March 2022.
The Green Homes Grant was announced by Chancellor Rishi Sunak in July, with £2 billion to go towards retrofitting homes to improve energy efficiency and heating. Heat pumps were confirmed to be eligible for the funding in August, with households able to claim vouchers of up to £5,000 to install one or more of the technologies available.
However, this should be followed by the introduction of a new Low-Carbon Heating Scheme, the CBI said, in order to replace the Domestic Renewable Heat Incentive with a grant system from April 2022. This would support a range of low-carbon heat solutions, including heat pumps and hybrid systems.
Read more: Current