Those digits won't mean a lot outside of energy circles, but they're likely to be etched into the UK industry's folklore. Just after 16:52 on Friday 9 August 2019, the UK's power system – one of the most secure in the world – tripped, causing power outages felt by more than 1 million customers.
While National Grid's interim report, to be published tomorrow (20 August 2019), is to provide more technical detail, what we know is that RWE's 727MW Little Barford CCGT plant tripped, causing grid frequency to fall sharply – inside four seconds – to 49.1Hz. How the loss of ~700MW of generation – well within National Grid's level of preparedness – caused such a drop, and a lack of system inertia's role in that, is a matter for another time.
That sizeable collapse prompted National Grid to call on its frequency response assets, as shown in the graph below, provided by Limejump.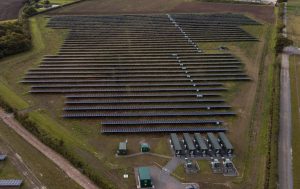 But as the system responded, Orsted's Hornsea offshore wind farm tripped as well. The relationship between those trips, and the rumoured role of lightning striking grid infrastructure nearby, will also likely feature in tomorrow's report.
The combined effort of losing both ~700MW from Little Barford and around 800MW from Hornsea was, however, simply too much for the system operator to withstand. At present, National Grid holds reserves enough to offset a failure at its largest single generator – the 1.2GW Sizewell B reactor – but at 1.5GW, the combined outage sent system frequency down to 48.8Hz.
It's this second, subsequent drop in frequency which triggered distribution network operators into action, who turned to their Low Frequency Demand Disconnection (LFDD) protocols to shed demand loads in order to stabilise the grid and prevent a more catastrophic error. The lights went out in some places, but the entire system itself was saved.
Batteries to the rescue
It took just two minutes and 22 seconds for that combination of load shedding and frequency response – a not inconsiderable amount provided by batteries – to restore the frequency to safe levels, four-time faster than the last time such an incident occurred in 2008. Within four minutes – 3:47 to be precise – grid frequency had been restored to its usual operating limits, significantly quicker than the 11 minutes it took a decade ago.
Read more: Current News