Milton Keynes Council have a new online system for applying for a parking permit. If you have an electric car (including plug-in hybrid) you can use it to get a Green Permit. This gives you parking around most of MK for free.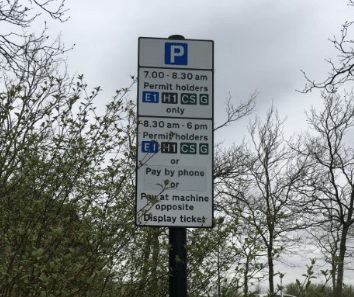 Application Process
Note that before you make an application you will need an electronic copy of your car's V5C registration document to confirm the fuel type.
To start your application go here:
Milton Keynes Council: Apply for a new parking permit
There is a 'wizard' that takes you through a series of steps, just click Next after each one:
1. Select Green Permit.
2. Set the length you want, typically 12 Months, and your preferred start date.
3. Choose the Valid Area – the areas around MK where you will be entitled to park (see map link below). For a Green Permit the only option is 'G' (green) areas.
4. Complete your Personal Details and Contact Information, including email address.
5. Enter your home address on the Create New Property page.
6. Complete the Vehicle details page, entering 'ICE vehicle – under 75g CO2/km' for Fuel Type. To prove you're entitled to this you will need to upload a copy of your V5C vehicle registration document (e.g. scanned as a PDF). Then click the Save Vehicle button and confirm it shows under Permit vehicles.
7. The next page is just a confirmation one – check the details, tick the 'I confirm…' box, and press Process Permit.
8. Finally you should see a Permit Issue Received page that will give you your permit number.
Soon after you should receive an email confirming the permit number and the vehicle registration that it applies to.
Documentation
Terms and Conditions ('Parking Charges and Guidance Notes').
Central Milton Keynes Parking Guide Map (PDF).